Our Weekly Routine
Cooking: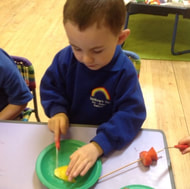 ---
The Great Outdoors
Below are some pictures of our extended garden.
Understanding the World
Physical Education
Arts and Crafts
Children are encouraged to use their creativity and imagination through a variety of large and small construction as well. Construction is a great opportunity for children to problem solve, plan and use mathematical language as well as learning how to work cooperatively with their peers.
Music
Most sessions involve singing and dancing to encourage the children to sing along with their favourite songs and to learn new ones. We also give them the opportunity to use instruments – tambourines, bells, xylophones, shakers and triangles. It really is music to their ears and develops their creative talents.
Technology
At Rainbow's, children have access to a variety of everyday technologies which we use to aid our learning e.g. torches, light boxes, led writing boards, programmable toys, digital microscopes etc. We also have a computer with a number of games designed to develop simple computing skills in preparation for school.
Role Play


Being able to recreate and imagine a role is the way that children learn how to express themselves, interact with others and rehearse life skills. The role play area is vital for language development, developing confidence, learning to play with other children and developing imagination.
Baker's Child
Each week different children are chosen to bake cakes at home to sell at Rainbow's. It raises money for the pre-school but most of all the children look forward to this opportunity to be an important part of their community.
Reading and Writing


We provide a variety of fine motor control activities to help children to strengthen their muscles ready for writing. Children are allowed to develop their confidence through emergent writing opportunities, for example writing a shopping list in the role play area or pretending to be a mechanic outside. The children are exposed to phonics through fun and meaningful activities and songs.