---
Staff
The staff members who make up Rainbow's End are a strong, dedicated and proud team. They are all part of the local community and between them, they have many years of experience as early years professionals and working mums. Most of their children have attended Rainbow's Preschool. They hold a variety of relevant qualifications and regularly attend Surrey County Council and in-house training. All staff are trained in Paediatric First Aid and Safeguarding.

The children are split into five small groups during focus time and each child is allocated a Key Person. The Key Person has a special responsibility to settle the children in to pre-school, liaise with parents and keep records of the child's progress without overshadowing them. We use Tapestry, an online system, to record the children's progress and to keep parents informed.



Sharon Mellors - Manager - Deputy SENCO - Deputy DCPO
​Key Person (Purple Group)


Sharon joined Rainbow's in 2016.

Sharon is a qualified primary school teacher with a biology degree and completed her masters degree in early years in 2009. She has over ten years experience of working with nursery and reception children. She led her staff team through many changes, including the integration of nursery and reception into a foundation stage unit and the million pound children's centre build.

​She has two young children who have both attended Rainbow's End. She has recently spent four happy years as a child minder, working with children from 0-5.


---

Alison Mair - Deputy Manager - DCPO - SENCO - Behaviour Management lead
​ Key Person
(Green Group)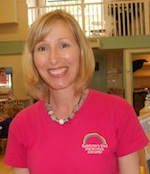 Ali is mum to a boy and a girl, who both attended Rainbow's. She was an active member of the committee before joining the staff in 2009.

In 2011, Ali gained her NVQ3 in childcare, learning and development. Her more recent training includes behaviour management, Autism and musicality.


---

Sarah Harris - Key Person (Red Group)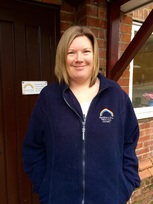 Sarah joined in February 2016. She has worked with children in a number of different roles before having two of her own.

Sarah is brilliantly imaginative when it comes to messy play, from rainbow coloured spaghetti to squishy baked beans!
---

Gill Neal - Forest School - Key Person (Yellow Group)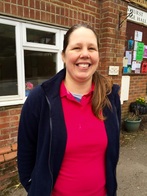 Gill joined us in February 2016. Gill knows Rainbow's inside out as a parent, a committee member and now as a member of staff.

Gill has recently gained her Level 2 Forest School certification leads our weekly Forest School, along with our school leavers.
---

Sarah Goddon - Key Person

(Blue Group)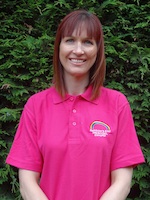 Sarah joined the team in 2013.
Sarah has many years of experience as a Nanny and an NNEB qualification.
​
Sarah has
a son and twin daughters at secondary school in Cranleigh.
---

Louise Howard - Parent Liaison Officer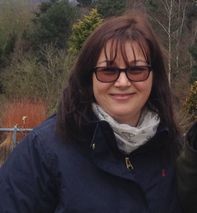 Louise joined the team at Easter 2017 and works with us Monday to Wednesday mornings in the office.
Louise has a great 'can do' attitude to any situation.
She is mum to James, who attended Rainbow's until starting life at big school this September.
---